Acrylic Pouring, Acrylic Painting, Watercolours and Mixed Media
Abstract Art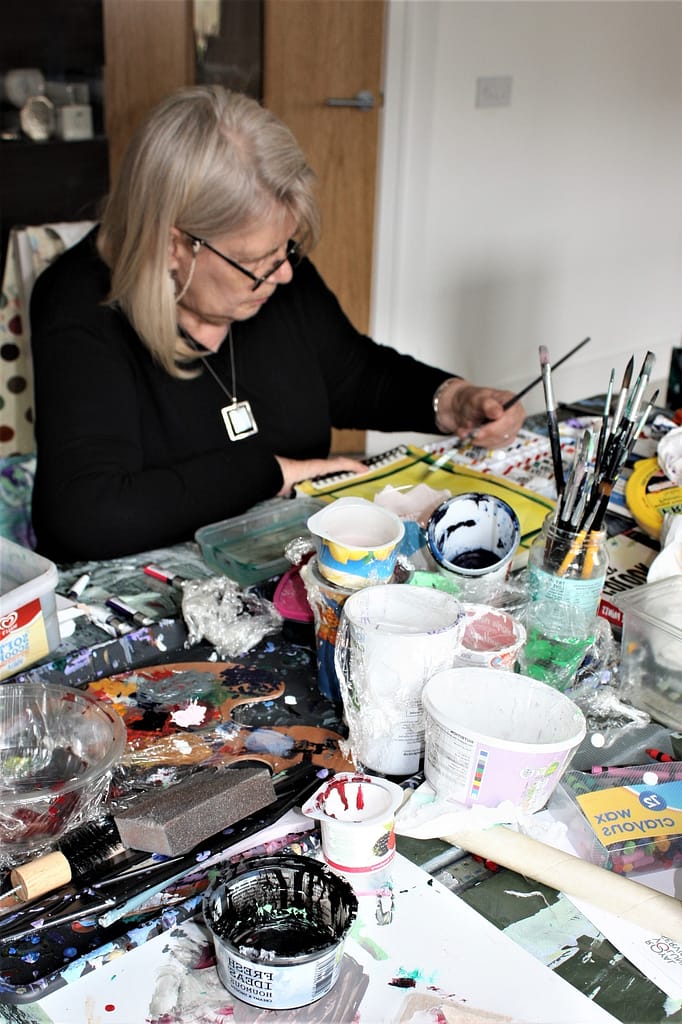 I admire many different types of art and so many wonderful artists, but the type of art which speaks to my heart the most is Abstract Art. I primarily use Acrylic Paints along with Mixed Media and to a lesser extent I paint Abstracts in Watercolour.
Abstract Art, which is the love of my life – apart from my husband, children/grandchildren of course – has steadily evolved for me over the years. What has always attracted me to this type of art is the total freedom it gives me to express myself on canvas. This means that the brush and paints can flow without any boundaries, allowing me to experiment daily without the technical constraints of formal training.
Very often I do not have a picture in my mind of what the end result will look like as it evolves over time and through several layers of paint.
Acrylic Pouring
Recently I started trying out some Acrylic Pouring which is fun to do and not nearly as easy as some would have you believe. Achieving an attractive pour depends on several things – the quality of acrylic paint used, the ratio used of paint to medium/water, the colours used, the type of pour and the preparation.
After completing the pour on the canvas, or whatever you are pouring onto, it needs to be left to cure for a minimum of 2 weeks before the first coat of varnish can be applied.
If you use silicone in your pour you need to add another 2 weeks minimum for it to cure then remove all the silicone from the canvas before varnish or resin can be applied. If you do not remove the silicone, the varnish/resin will not adhere to it, which will spoil the finished piece.
Pouring is unpredictable, it uses a huge amount of paint, so it is expensive, but it is great fun and really quite addictive.
Acrylic Painting
I choose to work with acrylic paints because they are an excellent fit with the way in which I create my art. One of the main benefits to me is that they can be applied to virtually any surface, paper, card, canvas or board, whatever I have to hand. This means I can get started creating my abstract art whenever the mood takes me.

They are also quick drying which means that I can return to a painting, make changes and add layers within a matter of hours.

Acrylic paints are also very stable and lightfast so the colour will not change over time – unlike oil paints which tend to yellow with age.

I can work very thinly with transparent glazes or very thickly with a mountain of paint but the actual surface quality of the acrylic remains flexible. This means the painting won't crack over time.

Thin coats of acrylic paint can also be used to give a watercolour look to a picture.
Displaying
I do not put any fixings on the backs of my work because unlike conventional paintings, most of my pieces can look just as good upside down or in portrait instead of landscape. They are not totally restricted to a certain way of displaying, which again gives a sense of freedom to the owner as well as myself while I am painting. The sides of the canvas are usually painted in a complimentary colour to take away the need for a frame and to keep the price for each piece reasonable.
Every painting is an original, coated with artists' varnish for protection and comes with a signed Certificate of Authentication.