Monday 2nd November, 2020
It was the end of September that I wrote my last blog, so it's been a wee while. I hope you enjoy reading these little ditties I share with you.
My last blog was about challenging myself by reaching outside my comfort zone. Well ….whilst I enjoyed painting King of the Castle, I have to admit that the total freeness of abstract art is what I enjoy most and what seems to suit my personality best I think – some might say chaotic!!! Never say never is a good saying and I am sure that I will try realism painting again in the future.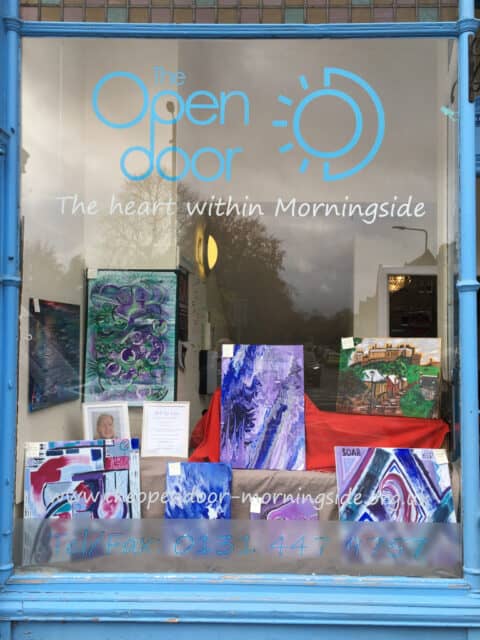 A friend of mine who volunteers in The Open Door Coffee Shop in Morningside, Edinburgh mentioned to me recently that it is possible to rent their window for exhibition and display purposes, so today I want to let you know that I have branched out from my website and have some of my abstract paintings and acrylic pours on display there for sale this week – and last week too.

For those of you who do not know, a lady named Peggy Hunter was the founder of The Open Door in 1982 to bring a feeling of care and companionship to the elderly and the lonely in the community. It is located at 420 Morningside Road, just at Morningside Station in Edinburgh.


Unfortunately it was forced to close in March, at the beginning of lockdown, which sadly meant that over 70 elderly people, some of whom are frail and lonely, who visit the café on a weekly basis, could not meet up for coffee and a chat or pop in for some of their delicious lunches (homemade soup and sandwiches etc.) which are prepared on the premises with great love and care primarily by volunteers. I also want to mention that their prices are remarkably low, especially in comparison with other cafes in the area and I am pleased to say that it is now open again between 10.30 a.m. and 2.30 p.m. There is of course social distancing in place, but there is room enough for 8 people to have lunch or coffee.
As well as their day care activities for the elderly and those with support needs, they also run clubs and they extend the hire of their rooms to outside groups.
As always I am continuing to add to my collection of paintings and hope very much to have my studio here, built and in a useable state by the end of the year. Yippeeeee! We will actually be able to use our dining room table again and perhaps see some of the kitchen floor.
Well folks, make sure to stay safe – who knows, by the time I am next in touch we may even have a new American President – now there's a thought to ponder on!!!
Till next time then,
Lyn xx