Tuesday 9th February, 2021
I hope you will enjoy seeing a few photos of my new art studio. I'm afraid that I'm not the tidiest of artists, so hope you will excuse any mess!!
t's been a while since my last blog, the reason being that my new art studio (a.k.a.The Tardis!) was being built and our back garden was being dug up and landscaped. It's been a very exciting time with all that's been happening and now that I have some space to organise my paint supplies and canvasses etc. it's been an even bigger joy to start creating more Original Abstract Art, Acrylic Pours and Acrylic Paintings. Thankfully I also have great heating and lighting in the studio, so it doesn't really matter how cold or dull the weather is, I can still paint.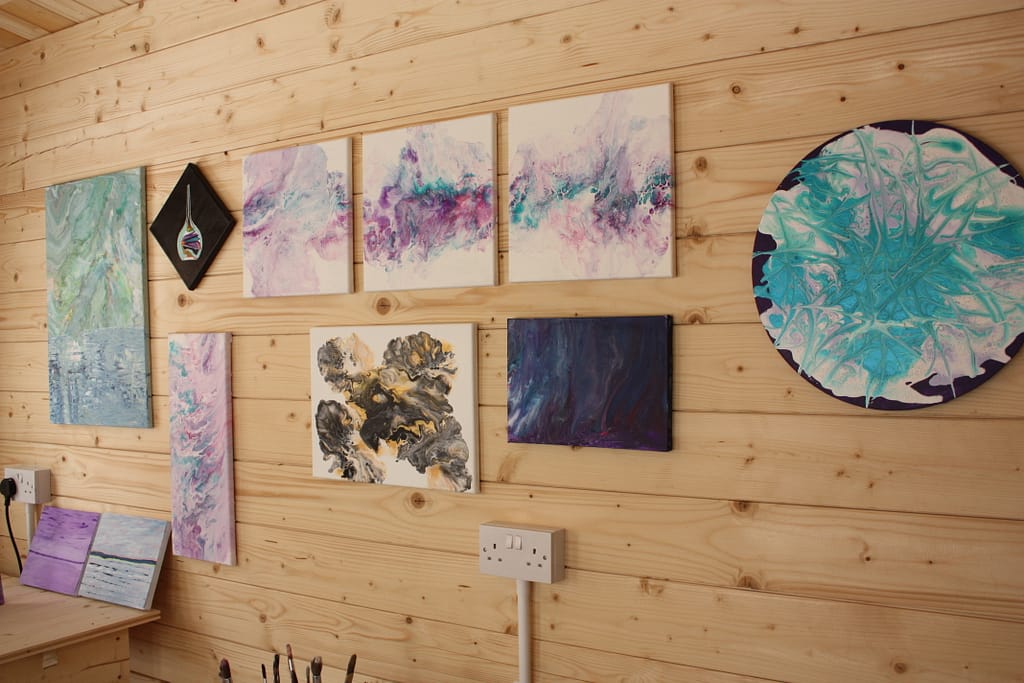 Another plus to having the new art studio is that our kitchen is less of a pigsty – so thank you to my very patient husband for putting up with all the clutter in the house for such a long time!!!
We woke up to about 6 inches of beautiful soft snow yesterday morning. It reminded me of the snow that used to fall when I was a child (a very long time ago!!) – perfectly soft for making snowballs and for building snowmen. Thankfully we don't need to go out in it, so can admire it from the house. Why does everything look so magical in the snow? Some of the scenery we have in Scotland is incredible, but with snow – WOW, it just looks amazing.
I have been trying to think of ways I can help some of the struggling charities through the sales of my paintings, so have decided to make a donation from each sale over the next 6 months, starting now.
There are so many deserving charities out there who could benefit from some extra money in these exceptional times.
If there is a particular charity you'd like to suggest then please send me a message via the contact form on the website.
Please also take time to visit my online shop where you will see some new, original and totally unique paintings for sale. I hope to have a few more ready at the end of the month.
If you see a painting which you would particularly like to buy, doing this now means you will also help a chosen charity for that particular month.
I plan to send out another blog at the end of February when I will be able to let you know the names of the charities that will benefit.
Till then, stay safe everyone.
Lyn xxx