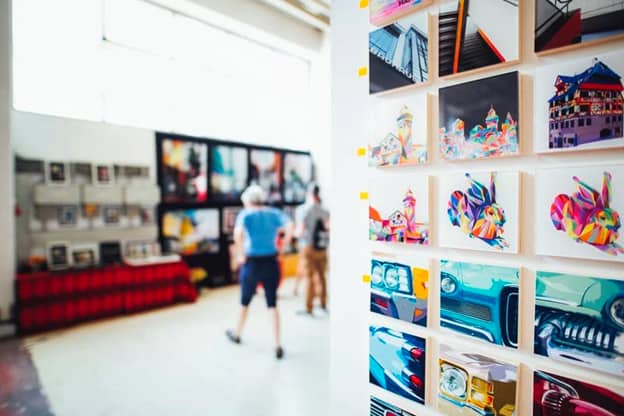 A Guest Article by ideaspired.com
How to Sell Well at Craft or Vendor Shows
You create amazing crafts and have found products you really believe in, so now's the time to start selling them to others. You can do that online, but if you want to meet your customers in person, craft or vendor shows are the perfect venues. Read on to learn how to sell well at such shows and earn some money from your crafts and products.
Your Display

The first step in selling your wares is drawing potential customers to your booth, so set up an eye-catching display. Spread out tables covered in bright cloths, then place a layer of white cloth over the top so that your products stand out. Use a pegboard to hang smaller items and put them at customers' eye level. Create appealing arrangements that pull customers in. As the day goes on, refresh your display to keep it looking full and attractive.

Your Prices

Setting your prices may be a little tricky, especially since you'll probably have direct competition at craft or vendor shows. For products you purchase wholesale, start with an ideal percentage above your costs. For craft items, calculate the cost of supplies and materials, and figure the percentage from that. Be aware that you'll never receive full compensation for the hours you spend making your crafts. Before the show begins, walk around to get an idea of what other vendors are charging. You may have to make some adjustments if your prices are too high or low. Also, make it easy for people to buy your items by offering several payment methods.

Your Inventory

Make sure your inventory is top-quality and has plenty on hand. It may take a while to determine exactly how much you have to order or make. You might get some advice from another vendor to determine a starting place for your inventory. Be flexible as you participate in your first few shows, and if you craft, work on improving your production speed without sacrificing quality. Also, pay attention to what sells and what doesn't, and introduce new products accordingly.

Your Business

Remember that as much fun as you're having, you're still running a business. Keep good records, and recall that you must pay taxes on what you earn. As your business grows, consider registering as a limited liability company to take advantage of tax benefits, greater flexibility, less paperwork, and limited personal liability. Know the LLC formation rules for your state, and do the legwork yourself or hire a formation service to help you avoid expensive lawyer fees when you file an LLC.

Your Marketing

Finally, give some thought to your marketing. You might want to set up a website to promote your products or crafts. Create a logo for your business, too, so you make a good first impression, stand out from the competition, and help your customers remember you. You can create a logo easily with an online logo maker. Choose your style, then add text, colors, and fonts to end up with something unique.

Your Shows

Your craft or vendor shows can provide profit and fun. Just be mindful of your display, prices, inventory, business practices, and marketing, and you can turn your hobby into your business. Visit Art By Lyn if you're interested in abstract paintings.
Attribution
This guest article was supplied by Tina Martin from ideaspired.com. Tina is a personal fitness instructor who also offers life coaching services to encourage clients to put their dreams first. Tina says "MY ideas matter, I'm the author of my own life story, and I can and should be my own inspiration. I believe that if we all took that same approach to life, we'd all be much happier and the world would truly be a better place for it!"